THE KINGDOM CALENDAR--The Appointed Times & Seasons
The Kingdom Calendar, also known as the Appointed Times & Seasons Calendar, and the Insights in Prophecy Lesson Guides (Revised and Updated, July 2012) will take you through the books of Daniel and Revelation for a thorough investigation into final events. The Calendar shows how the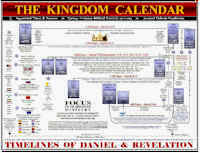 timelines of prophecy align between the Biblical/ Jewish Festivals (Hebrew: Moedim--meaning "Rehearsal").
The five prophetic time periods in Daniel ("seventy 'sevens'"--490 days, "2300 evenings and mornings"--1150 days, "time, times and a half"--1260 days, 1290 days and 1335 days) are directly connect to the often-repeated 1260 days (42 months; "time, times and a half") found five times in the book of Revelation.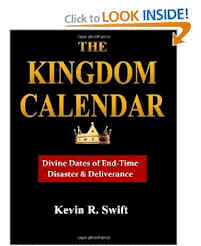 The 3 1/2 days of Daniel (9:27)--"the middle of the seven" and the 3 1/2 days of Revelation (11:9-11), when connected to the longer 3 1/2 year period, reveal a prophetic time chart that both begins and ends with Bible times. This alignment forecasts the fulfillment of end-time events known as the "times and seasons" of Biblical prophecy.
The book The Kingdom Calendar: Divine Dates of End-time Disaster & Deliverance is available in paperback at Create Space by Amazon, and takes you step by step through events of the final crisis, noting how the great worldwide troubles begin and end within the time allotted by God. Ecclesiastes 8:5-6 says, "...and a wise man's heart discerns both time and judgment.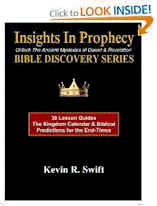 Because to every purpose there is time and judgment."
NEW BOOK OFFER: The Insights in Prophecy 30 prophetic lessons are now available in a 292 page paperback book from Amazon for $18.95, plus shipping and handling. The lessons are free on our website, but you can save time, ink, paper and printing costs with the purchase of all the lessons in one bound book. To learn more, visit Amazon.
Pressures Leading to Middle East War, World War III, Financial Collapse, Disasters, Chaos & Holocaust
"While people are saying, "Peace and safety," destruction will come on them suddenly, as labor pains on a pregnant woman, and they will not escape,"
1 Thessalonians 5:3
The Middle East is about to erupt, and when it does it will lead to World War III. This clash of the nations (Matthew 24:7) will begin with conflict between Israel and her surrounding enemies (Syria, Palestinians, Egypt, Jordan, etc.), and also a US-European-Israeli battering of Iran (the instigator of Middle East turmoil)... which will summons a Russian response, likely thermonuclear war and global holocaust.
Particularly vulnerable to the Bear attack are three countries (horns/ribs-Daniel 7:5,8) on the Mediterranean coastline--(i.e. Greece, Italy, Spain and/or Portugal). How do we know? Prophecy gives the direction of the growing Papal power--the "little horn" (little nation--the Vatican), "started small but grew in power to the south (i.e. Italy, Spain, Portugal) and to the east (Greece) and toward the Beautiful Land" (Israel) (Daniel 8:9). These European nations are currently under financial distress and internal turmoil, and Russia will consider them wounded and vulnerable to an uprooting attack. Out of this holocaust will emerge the power-base of the Man of Sin (Antichrist), whose miraculous arrival on the global scene will be buttressed by sky events, signs and wonders; the whole world will marvel at his appearance. America's Middle-East victories will be short-lived; her (and the world's) financial collapse, devastation and fall from superpower status will be quick and decisive. No home will be left unaffected; all mankind will experience calamity and fear that the end of the ages has come... however, it will only be the "beginnings of sorrows," (Matthew 24:8).
The news articles posted on this site often
DO NOT represent this ministry's views.
May 21, 2013
May 21, 2013
Gantz: Assad will pay the price for Golan escalation. Syria: We fired on Israeli patrol
May 19, 2013
Russia sends at least 12 warships to Syria
Deployment presumably a warning to Israeli and Western officials regarding military intervention against Assad...Russia's increased presence in the region — which began raising eyebrows in the US three months ago — represents one of its largest sustained naval deployments since the Cold War, the Wall Street Journal reported on Thursday.
May 19, 2013
GEAB N°75 is available! Systemic crisis 2013: with record stock exchange highs, the planet's imminent plunge into recession
May 18, 2013
Russian warships enter Mediterranean to form permanent task force
Russia's Navy Chief says the task force may be reinforced with nuclear submarines, as the country starts building up a permanent fleet in the region. "The task force has successfully passed through the Suez Canal and entered the Mediterranean. It is the first time in decades that Pacific Fleet warships have entered this region," the Pacific Fleet spokesman, Capt. First Rank Roman Martov told RIA Novosti...The Mediterranean has recently become a hotspot of military muscle flexing as global powers seemingly vie for influence. NATO has been staging major naval war games involving several countries, last October holding an exercise code-named Noble Mariner 12. Russia held its largest naval exercises in the region this January, with drills spanning both the Black and Mediterranean Seas. The media quickly linked both the NATO and Russian war games to the situation in Syria.
May 18, 2013
Will Israel destroy Russian missiles?
Tehran apparently believes the West's patience is running out quickly and that by the end of the first half of 2013, or by the end of the year, Washington or Jerusalem – or both – will decide on a military strike against Iran's nuclear facilities.
May 17, 2013
Terrorist super-axis to strike within U.S.
Imminent attacks planned by al-Qaida, Quds Forces, Hezbollah
May 16, 2013
Japan PM warns of possible military response to Chinese subs
May 16, 2013
Unmoved by Israel, Russia will send top air-defense system to Assad
May 16, 2013
Syrian-Israeli war of words via Putin edges into Syrian-Hizballah war of attrition
May 15, 2013
Israel Hints at New Strikes, Warning Syria Not to Retaliate
May 14, 2013
Putin, Netanyahu meet in Russia to discuss Iran & Syria threats
May 14, 2013
Russia's Putin warns against aggravating Syria crisis
May 13, 2013
May 13, 2013
Russia staffs Mediterranean fleet. Turkey weighs payback for Syrian bombings
Russian Navy Admiral Viktor Chirkov said Sunday, May 12, that the process is underway for creating a permanent staff to run Russian fleet operations in the Mediterranean Sea. Speaking at Sevastopol, the Black Sea fleet's home port, Adm. Chirkov said a staff of 20 officers was already in place. And the Mediterranean deployment would comprise five to six warships and their service vessels as well possibly as nuclear submarines which, say our military sources, are armed with nuclear ballistic missiles.
May 13, 2013
May 13, 2013
Charles Krauthammer: Pink line over Damascus
May 11, 2013
5 reasons Syria's war suddenly looks more dangerous
May 11, 2013
Netanyahu to visit Putin in a bid to stop his S-300 missile sale to Syria
"He (Putin) later spurned the approaches by Western leaders by stating that Moscow would never permit another US-led NATO air campaign against Assad like the one that overthrew Muammar Qaddafi in Libya in 2011... Since the chances of dissuading Putin to abandon this strategy are just about nil, the best Netanyahu can hope for by his face-to-face with the Russian president is a limited accord on ground rules for averting an Israeli-Russian military clash in Syria."
May 10, 2013
US envoy Ford's secret crossing into Syria. Turkey's "chemical dossier" for Obama
May 10, 2013
Syria and the debate over America's decline.
May 8, 2013
The dollar – and the USA – is toast
Exclusive: Lord Monckton sees China prepping for final collapse of America
May 8, 2013
Pentagon Plans for the Worst in Syria
May 8, 2013
Report: Russia delivers supersonic cruise missiles to Syria
Military source confirms delivery of missiles, according to an AFP report; second official says missiles will protect Syria from 'possible attack from the sea.'
May 7, 2013
May 6, 2013
Why Netanyahu ordered more air strikes in Syria: Analysis
May 6, 2013
May 5, 2013
After Strikes in Syria, Concerns About an Escalation of Fighting
May 5, 2013
Syria: Israeli attack equals declaration of war. Iron Domes at Haifa and Safed
May 4, 2013
Israel air strike on Syria 'is a message to Iran and the US'
Richard Spencer, Middle East Correspondent, says that Israel's latest air strike on Syria is more than just an attempt to stop weapons falling into the hands of its enemies.
May 4, 2013
Israel jets fly over E. Lebanon, head north over Beirut, after striking targets in Syria
"US sources said earlier Israeli warplanes had struck targets in Syria including a chemical weapons depot outside Damascus, firing missiles remotely from Lebanese air space and the Golan starting Friday and continuing up until early Saturday, May 3."
May 2, 2013
Hagel: US rethinking arming Syrian rebels
May 1, 2013
Israel fears end to 40-year peace on Syrian front
by Kevin Swift
February 14, 2013
The First Miraculous Birth
Genesis 17 shares the story about the father of the nation of Israel--Abram and his wife Sarai, and how the LORD appeared to the 99 year old Abram. The LORD, said, "I am God Almighty... I will establish My covenant between Me and you, and I will multiply you greatly," (vs. 1-2). The story continues, "God said to Abraham, "I will give you a son [Isaac] by her [Sarah]... and she will produce nations." Abraham fell facedown. Then he laughed and said to himself, "Can a child be born to a hundred-year-old man?" Of course, Abraham already had a son by Sarah's maidservant Hagar, whose name was Ishmael--thirteen years old at this time; however, he was not the chosen one--rather Ishmael was Abraham's attempt to fulfill God's promise of a great nation because of his unbelief. As a result, Ishmael's line--the Arabs, would became Isaac's--the Israelis, arch enemy from that day forward; and, down through the centuries this bad blood would cause the great conflicts of the Middle East between the Arabs and the Jews that continues still today.

Rafsanjani & the US Led War on Iran
Watch Joel Rosenberg's 2011 message about Purim, and understand why this ministry has written about the prophetic end-time fulfillment of this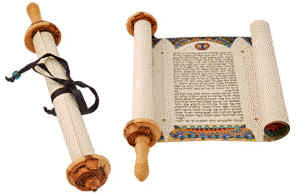 Festival. Purim could begin the prophetic time periods that will culminate three and one-half years later at the Day of the LORD, just as The Kingdom Calendar shows; however, this is God's mystery, and He could bring about His kingdom in an entirely different manner or an entirely different timeline.
The Purim rehearsal, repeated in the observance of this Festival year after year since the historic events first occurred as found in the book of Esther in old Persia. Some day, the "appointed times" of Bible prophecy will meet their fulfillment. Although the mysteries continue, God promised to unseal Daniels scroll and fulfilled his Festivals, "at the time of the end," Daniel 12:9.
For more than two decades, this ministry has joined others in warning of a US led coalition against the Islamic nations of Iraq, followed by Iran--the Goat vs. the two-horned Ram in Daniel 8:1-8. Iraq's defeat by the American-led coalition commenced on March 19, 2003, at Shushan Purim—the day Purim is celebrated in Jerusalem. The second half of this prophecy involving Iran may also begin at or near a Festival season, as a continuation of this prophecy that began ten years ago with the attack on Iraq.
The shattering of the larger horn (Iran) that "grew up later" initiates the beginning of end. Gabriel told Daniel, "Understand that the vision concerns the time of the end." He reaffirmed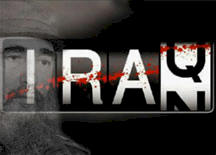 the point once again (as though once was not enough to convince the reader), "the vision concerns the appointed time of the end." Daniel 8:17, 19. Alexander the Great, King Darius III and the war of 331 B.C. over 2,000 years ago does not match the "time of the end" prediction of war--the common teaching in modern-day commentaries. Daniel 11:2 identifies the instigator of the end-time war as the fourth leader of Persia (Iran), a very wealthy man, who would stir up Muslims against Greece (the Hebrew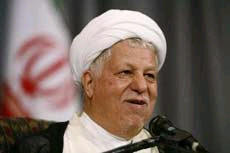 word "Javan," translated often as Greece, in Daniel's day generally stood for powers to the West). As for the fourth and wealthy leader in Iran, Akbar Hashemi Rafsanjani (click here) fit the prophecy perfectly.

Current News Event
May 12, 2013
Editor's Note: There are more articles about Rafsanjani and his 2013 presidential ran for Iran's presidency in the last 2-3 days than I've seen in 10 years. So many, I'm linking to a page just for Rafsanjani's current news articles here.
May 19, 2013
Two other parties announce support for Rafsanjani's presidential candidacy
May 16, 2013
Consensus on Rafsanjani Did Not Come Easily
May 16, 2013
Iran's June 14 election: Rafsanjani, Ahmadinejad's Medvedev and no hope for change
May 11, 2013
Rafsanjani's last-minute entry transforms Iranian presidential race
May 11, 2013
Iran's former president Akbar Hashemi Rafsanjani bids for political comeback
May 10, 2013
Former Iranian president Rafsanjani ponders run in upcoming election
May 9, 2013
Khatami says situation not ripe for his candidacy; expresses hope Rafsanjani would run for president
Khatami expressed hope that Ayatollah Rafsanjani would run for president, saying, "The presence of Hashemi would be a victory for all." "If Mr. Hashemi comes, with the help of God, we will pass through this difficult juncture."
MAY 9, 2013
Suspense Over Rafsanjani as Iran Election Hopefuls Sign Up
May 8, 2013
Hashemi Rafsanjani Will Run For President: His Daughter
May 8, 2013
Rafsanjani Will Run With Support of Reformists, Says Zibakalam
May 8, 2013
Opposition leader supports Rafsanjani in Iranian presidential elections
The Conflict Over God's Appointed "Times & Seasons"
Written June 26, 2012
by Kevin Swift
In the book of Daniel, we discover two very interesting predictions about the final conflict of the ages. It involves God's "times and seasons" or the "set times and the laws" of Almighty God. While Daniel prophesies that our Creator has the ability to "change times and seasons," he also predicts that the Man of Sin will, in contrast, attempt to "change the set times and the laws" of God. Clearly, prophecy is asking us to pay attention to these details, and to consider the opposing sides and what this means for the last-day saints. It was just in recent days that this mystery became my focus, and I'd like to share what I've learned with you.

Worship at the Western Wall and Temple Mount will be striped away, according to Bible prophecy--(Read Prophetic Warning for Jerusalem & Israel). The last generation of saints have God's promise of the final unsealing of prophecy--including a more thorough understanding of final events that center around the

mysterious 1,290 days and 1,335 days of Daniel 12, which says, "From the time that the daily [worship]... is abolished [at the Western Wall & Temple Mount] and the abomination that causes desolation is set up [on the Temple Mount], there will be 1,290 days. Blessed is the one who waits for and reaches the end of the 1,335 days." In other words, a disastrous tragedy such as an earthquake (link) (link) (link) (link) (link) or war will soon stop daily worship at the Western Wall and Temple Mount. This is the decisive Jerusalem event that initiates the prophetic periods of the appointed time of the end. Since this may be a Purim event, March 16-17, 2014 is the next watch period. Jesus even said, "There will be... earthquakes in various places. All these are the beginning of birth pains," Matthew 24:7-8.
| | | | |
| --- | --- | --- | --- |
| | | "Since the Arab Islamic foreign occupation of the land of Israel, Jerusalem, and the Temple Mount — after building the mosque and Dome of the Rock, it was a Jewish tradition that in the time of the redemption of Israel when the people of Israel again dwell in the land and the State of Israel is re-established, the G-d of Israel will cause a strong earthquake which will completely remove these foreign houses of pagan worship from the Temple Mount. The Temple Mount will be ready for the rebuilding for the building of the Third Temple... scientists stated that a very strong earthquake will occur in the coming future and the epicenter of the earthquake will be on the Temple Mount and the Old City." TempleMountFaithful.org | |
Soon after the Jerusalem disaster, Gentile troops will enter the City to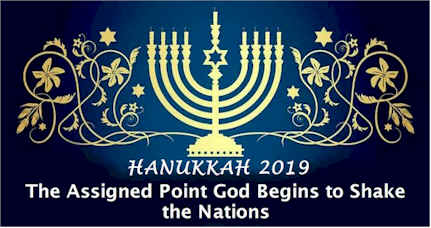 restore order, trampling on Jerusalem for 42 months (1,260 days--Revelation 11:2). The greater part of the military forces will likely be European NATO troops; the majority of Israelis approve of a NATO presence in the West Bank (International Troops Bound for West Bank?), which western border runs through the City of Jerusalem. according to a survey in early 2009. During the time of trouble that follows, the City and Temple Mount with religious structures will be rebuilt in Jerusalem (Daniel 9:25)... but this will only set the stage for the division and ultimate destruction of the City of Jerusalem that culminates during the 40 day Great Tribulation, because Israel will allow Antichrist onto the Temple Mount to set up his idolatrous abomination.

America's Decline & Judgment
Is America ripe for judgment? Many years ago, Thomas Jefferson said: "I tremble for my country when I reflect that God is just; and that His justice cannot sleep forever. In recent decades, Billy Graham quipped, "If God doesn't judge America He will have to apologize to Sodom and Gomorrah!"
(continue)
Related News Article: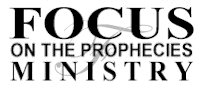 5815 S.W. 29th St Topeka, Ks 66614
War with Iran--The Beginning of the End
Note: The news articles posted on this site often
DO NOT represent this ministry's views.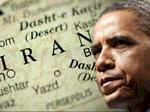 May 22, 2013
Iran bans Hashemi Rafsanjani from running in presidential election
May 22, 2013
Iran Plan for Low-Key Race May Be Threatened by Rafsanjani (3)
May 18, 2013
Source: U.S. taking sides in Iran's election
A secret message from Secretary of State John Kerry was delivered to Iran's Ayatollah Hashemi Rafsanjani that said the United States would support his possible presidential candidacy...the White House would rather Rafsanjani win than Velayati but has contacts with both. However, he said, to hope that either will change the regime's policies is delusional because not only are ultimate decisions made by the supreme leader.
May 18, 2013
Iran dispatches warship to shadow Gulf exercises
Iran has dispatched one of its newest warships to shadow the world's biggest mine-hunting exercise that has been taking place over the last few days in the Gulf.
May 15, 2013
Video: Persia in Prophecy, 2009
May 15, 2013
UN nuclear talks with Iran fail to end deadlock
May 15, 2013
Has Iran Crossed Netanyahu's 'Red Line'?
May 14, 2013
Attacking Iran's Nuclear Sites Would be Sheer Madness
May 14, 2013
Rafsanjani Candidacy A Likely Winner
May 13, 2013
World's biggest anti-mine naval exercise after Iranian threats to close Gulf
A fleet of 34 ships will on Monday begin the world's biggest anti-mine exercise in an international naval show of force after Iranian threats to close the Gulf.
May 11, 2013
Profile: Akbar Hashemi Rafsanjani
Rafsanjani has dominated Iranian politics since the
1980s. Ali Akbar Hashemi Rafsanjani, who has registered as a candidate for the June 2013 presidential elections, has been a dominant figure in Iranian politics since the 1980s.
May 11, 2013
Ali Akbar Hashemi Rafsanjani to stand for Iran presidency
May 10, 2013
Netanyahu: Nuclear Iran could disrupt oil supply
May 8, 2013
Israeli airstrikes target Iran, not Syria
May 7, 2013
What Israel Air Strikes on Syria Reveal About Blueprint for Iran Attack
May 4, 2013
Analysis: Israeli warplanes attack shipment of Iranian missiles in Syria even as whispers in Washington suggest Israel may wait to hit Iran until after June elections.
May 1, 2013
Analysis: Israeli credibility on line over Iran nuclear challenge
Apr 29, 2013
Benjamin Netanyahu, Israel's Prime Minister, Says Iran Has Not Yet Reached 'Red Line'
Apr 29, 2013
Analysis: Iran crossing red line with yellowcake
Apr 28, 2013
Israeli credibility on line over Iran nuclear challenge
Apr 28, 2013
Close confidante of Netanyahu warns "it's now or never" for military strike on Iran: Analysis
Apr 26, 2013
Israel may face wars with Iran and Syria within two months say analysts
Apr 26, 2013
Obama's non-response to Assad's chemical weapons would encourage a nuclear Iran
Apr 25, 2013
Iranian nukes: Insurance or invitation to attack?
Apr 25, 2013
The thin red line: Is Iran outmaneuvering the U.S. and Israel?
Apr 23, 2013
Tehran and Assad slide past US and Israeli red lines – nuclear and chemical
Likud lawmaker Tzahi Hanegbi said Israel has no more than a month or two for stopping a nuclear Iran...Ron Dermer, a senior Netanyahu adviser and Israel's next ambassador to Washington, told a group of American Jewish leaders Sunday that the time for action against Iran's capacity to build a bomb – which he termed an existential threat to Israel - must be counted in months.
Apr 21, 2013
Britain and US 'risk repeating Iraq invasion mistake with Iran'
Europe, Vatican & the New World Order
The New World Order will result from a series of international policy changes in response to the

growing global financial crisis and the desire for a new global currency, escalating disasters of war, nuclear holocaust, poisoned air, and nature's wrath, along with supernatural signs and wonders (eg. Marian sightings), and religious unity based on Vatican/Catholic "Sunday-promoting" governance centered in the Europe Union (Lisbon Treaty), promoting the "common good" of all nations under Papal and European NATO rule. This will ultimately lead to a global marking system for buying and selling, and 10 divisions of the world (10 Kings) of Revelation 17:12-14.
There is a Catholic teaching that before the great climax of human history a righteous Pope will first rule the world, turning many to Christianity, followed by an evil Pope or Antichrist who would emerge to fulfill the apocalyptic predictions of Revelation.
(continue)
Feb 11, 2013
Does Ancient Catholic Prophecy Suggest the End is Near?
Feb 11, 2013
***Feb 11, 2013
Pope Benedict XVI to resign, citing age and waning energy
The conclave of cardinals that will choose the next pope is expected to convene in mid-March. Lombardi, the Vatican spokesman, said "we should have a new pope for Easter," which this year falls on March 31.
Video: What Is Agenda 21? After Watching This, You May Not Want to Know
Radio Show: Last Pope-Steve Quayle-Tom Horn
Video: Rome's Strategy for a One World Religion by Mike Gendron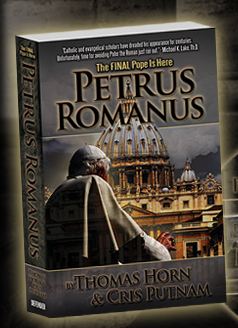 "It is as if the 'Keys to the Vatican' have been passed from Malachy Morgair to Malachi Martin to Tom Horn and Cris Putnam. Petrus Romanus: The Final Pope is Here, is unquestionably a more comprehensive inquisition into the Vatican than the Inquisition itself. You've unraveled quantum entanglement and distilled it to Occam's Razor. Amazing!"
- Sue Bradley,
Geopolitical and Research Journalists
Update: Petrus Romanus Update: 03/21/13
Egypt's End-Time Conflict with Israel
The Following Excerpt is from the Insights in Prophecy Lesson 10, Written in 2003
Chapter 10 introduces Daniel's final and lengthiest vision, spanning three full chapters (Daniel 10, 11 & 12). The future, end-time fulfillment of Daniel's vision is announced right in the passage itself: Daniel 10:14 says, "Now I am come to explain to you what will happen to your people [Israel] in the future, for the vision concerns a time yet to come." The King James reads, "what shall befall thy people in the latter days."
Live Earthquake Seismic Monitor
"And you will hear of wars and rumors of wars. See that you are not troubled; for all these things must come to pass, but the end is not yet. For nation will rise against nation, and kingdom against kingdom. And there will be famines, pestilences, and earthquakes in various places. All these are the beginning of sorrows,"
Matthew 24:6-8.
Indonesia, Haiti, Chile, New Zealand, Japan
Where next?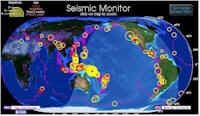 We should continue to watch the region of Indonesia for massive changes to come, including very large-scale volcanic eruptions. Nearly all of the planet's current 15 tectonic plates, and in some cases, sub-plates and volcanic arcs are heavily stressed by the recent violent mobility of tectonic plates shaken by earthquakes. I've never quite seen a pattern this fraught with potential hazards, or as heavily laden with seismic tension. The planet is now experiencing a major geological crisis, and it's showing some indication of worsening.
Dec 21, 2012
Earthquakes, The Fuse That Ignites Volcanoes, Have Increased Worldwide
Dec 4, 2012
Scientists Warn Of Major Earthquakes In Himalayas And Pacific Northwest
Dec 19, 2012
15 Signs That The Ring Of Fire Is Waking Up As We Head Into 2013
CONSUMING FIRE: A Biblical Challenge to a Brutal God & Eternal Burning Flames
What is the Biblical teaching concerning the future punishment of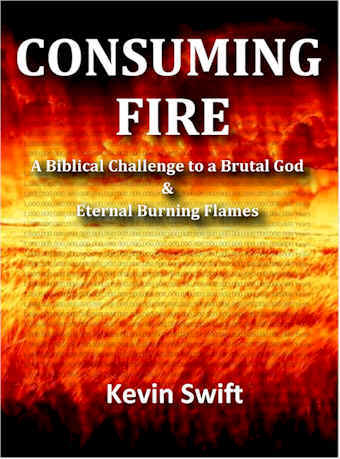 sinners? Will men, women and children suffer fiery torture for endless ages? The Scriptures paint a picture of the demise of sinners, and you might be surprised what you find when you start in the Old Testament and work your way through the New. Examine the passages and see for yourself how God will deal with sin and sinners. You may gain a fresh new perspective about the compassionate God we serve!
Click here for a FREE copy of Kevin's latest 40 page eBook.
A Crash Course on Jewish
Holidays-- Messianic Source
Source: Hebrew4Christians
Video: Fall Feasts and the Budding of the Fig Tree
Key Scriptures About Prophecy
GOD'S PROMISE
"Go thy way, Daniel: for the words are closed up and sealed till the time of the end... none of the wicked shall understand; but the wise shall understand," Daniel 12:9-10.
OUR RESPONSIBILITY
Study to shew thyself approved unto God, a workman that needeth not to be ashamed, rightly dividing the word of truth," 2 Timothy 2:15.
OUR LIMITATION
"O the depth of the riches both of the wisdom and knowledge of God! How unsearchable are His judgments, and His ways past finding out! For who hath known the mind of the Lord? Or who hath been His counselor?" Romans 11:33-34
The Word of God points to the value of prophecy. We can be confident that any effort expanded to dig deeper and learn more about God's prophetic Scriptures will be time well spent... especially as the Day approaches.
"The secret things belong to the Lord our God; but the things that are revealed belong to us and to our sons forever," (Deuteronomy 29:29).
"Surely the Lord God does nothing, unless He reveals His secret counsel to His servants the prophets," (Amos 3:7).
"I am God, and there is no other; I am God, and there is no one like Me, declaring the end from the beginning and from ancient times things which have not been done... I have spoken; truly I will bring it to pass. I have planned it, surely I will do it," (Isaiah 46:9-11).
"[Jesus said] 'Do not think that I have come to abolish the Law or the Prophets; I did not come to abolish, but to fulfill,'" (Matthew 5:17).
"[Jesus] said to them, 'These are My words which I spoke to you while I was still with you, that all things which are written about Me in the Law of Moses and the Prophets and the Psalms must be fulfilled,'" (Luke 24:44).
"Of Him [Jesus] all the prophets bear witness that through His name everyone who believes in Him receives forgiveness of sins," (Acts 10:43).
"The prophets who prophesied of the grace that would come to you made careful search and inquiry, seeking to know what person or time the Spirit of Christ within them was indicating as He predicted the sufferings of Christ and the glories to follow," (1 Peter 1:10-11).
"We have the prophetic word made more sure, to which you do well to pay attention as to a lamp shining in a dark place... But know this first of all, that no prophecy of Scripture is a matter of one's own interpretation, for no prophecy was ever made by an act of human will, but men moved by the Holy Spirit spoke from God," (2 Peter 1:19-21).
"The revelation from Jesus Christ, which God gave him to show His servants what must soon take place... Blessed is the one who reads aloud the words of this prophecy, and blessed are those who hear it and take to heart what is written in it, because the time is near... The testimony of Jesus is the spirit of prophecy," (Revelation 1:1,3; Revelation 19:10).
.
Global Outreach--Online 24/7