Announcing... Our New Interactive Calendar
The Kingdom Calendar now features 21 Interactive Hotspots connected to the 21 Points, which provide excerpt explanations from Kevin's book The Kingdom Calendar: Divine Dates of End-time Disaster & Deliverance. The complete book is available at Amazon.
God's Calendar & The Blood Red Moons 2014-2015
From the beginning, in Genesis, God declared He specifically created the sun and the moon to be used for signs. These heavenly bodies would be used as signals of coming dramatic historical events when the Creator of the universe would intersect with human history. But how do we unlock the code to interpret the signals?
In 2007 Mark Biltz first discovered the correlation between blood moons that fell on feast days and key historical world events. He found the divine link between prophecy, heavenly signs and historical events, and what has happened when they intersect.
Throughout history God, the Master Timekeeper, has used the heavenly bodies to communicate to us when significant events would happen. If you want to understand the timing of the Lord, you have to understand the seasons of the Lord, the feasts of the Lord and the calendar of the Lord.
What are the feasts days?
What is the difference between the biblical calendar and the one we use today?
Why should you be concerned about eclipses in the sky?
View insightful videos from World Net Daily.
Bill Salus: Video on Blood Moons & Mideast War
The Seven Year Tribulation View is a Human Invention
Did you know the popular "seven year" tribulation view is a human invention of Daniel 9:27, and is not plainly stated in the prophecies; but, is instead a contrived interpretation of Daniel 9 established about 200 years ago? Here is the passage:
"Seventy weeks [70 X 7 = 490 days] are determined upon thy people [Daniel's people; tribes of Israel; today's Jews] and upon thy holy city [Jerusalem], to finish the transgression, and to make an end of sins, and to make reconciliation for iniquity, and to bring in everlasting righteousness, and to seal up the vision and prophecy, and to anoint the most Holy [clearly, end-time Messianic promises]. And he [Antichrist] shall confirm the covenant with many for one week: and in the midst of the week he shall cause the sacrifice and the oblation to cease, and for the overspreading of abominations he shall make it desolate, even until the consummation, and that determined shall be poured upon the desolate. And at the temple he [Antichrist] will set up an abomination that causes desolation, until the end that is decreed is poured out on him," .
Why is the "seven year" tribulation a contrived interpretation of Daniel 9:27? That's simple: it is not found in the context of the chapter, the verse or the Hebrew language, but deduced by former students of prophecy who turned the literal "week" of seven days into "years" and split them off from the other 483 days (also turned arbitrarily into years). To add insult, they claim the 483 days (no... years, they say) have already been fulfilled almost two thousands years ago, while the last week (of years) is yet future. There is absolutely no contextual evidence to either turn the days into years, or to break the 70 week prophecy into two parts, separated by centuries. If this were not such a widely accepted view among Evangelicals and theologians, anybody suggesting it as a new prophetic interpretation today would be laughed out of town. Just because it's popular, doesn't make it so!
It's time we allow the Scriptures and God's prophetic Word to say what it means, and to mean what it says. Once we do, exciting mysteries begin to unfold to the last generation of saints, just as the prophet Daniel was promised in Daniel 12:9-10! God does not want us to be ignorant of His mysteries (Romans 11:25; 1 Thessalonians 4:13; 2 Peter 3:5, 8; 1 Corinthians 2:10).
I am reminded of this quote from a wise scientist and student of the prophecies: "About the times of the End, a body of men will be raised up who will turn their attention to the prophecies, and insist upon their literal interpretation, in the midst of much clamor and opposition."― Isaac Newton 1642 – 1747
The 70th Jubilee from the Exodus
& the 120th Jubilee from Creation
God's Purpose for Jubilee
Leviticus 25:10 says, "And ye shall hallow the fiftieth year, and proclaim liberty throughout all the land unto all the inhabitants thereof: it shall be a jubilee unto you; and ye shall return every man unto his possession, and ye shall return every man unto his family."

Every 50 years was to be a Year of Jubilee throughout all the land. The Jubilee Year had huge economic, social and family ramifications. During Jubilee, slaves were to be set free, the land was to be restored to its original owner and families were to be reunited. The Year of Jubilee restored families and freed the land from the bondage of debt as all mortgages were canceled.
The Jubilee would arrive every 50 years, and it would put an end to oppression. All bondage was broken and the people would be free to start fresh. It was also a year of agricultural rest as there would be no farming during this year. God promised to abundantly bless the crops and orchards, and the people were to rest from their labor. It was a year to focus on God's provisions and not farming, money and social issues; it represented God's time of restoration.

"In the year of this Jubilee ye shall return every man unto his possession... Ye shall not therefore oppress one another; but thou shalt fear thy God: for I am the LORD your God," Leviticus 25: 13, 17.

The Year of Jubilee was to bring liberty to the masses and break the bonds of oppression. The Jubilee was a type or forerunner of the future reign of Messiah. Jubilee was a rehearsal to set the stage for the coming of King Messiah, since His reign would offer an unending Jubilee. All oppression will end under His rule, and justice will reign. All financial bondage will come to an end, and there will be peace and an abundance of provisions. There will be real liberty in the Kingdom of Messiah.

The Secret Rapture of the Church is a False Hope
of Modern Origin
Some believe Jesus could rapture the Church at any moment. Others say He won't do so until the middle of the tribulation. Still others place the rapture at the very end of the tribulation period. Are any of them right, or could the Bible teach a different option altogether?
Pretribulation rapturism teaches that Christ will rapture true believers before a seven year tribulation period or what is called the seventieth week of Daniel, thereby saving the church from end-time persecution and martyrdom. This view has gained wider acceptance in the last decade by Tim LaHaye's book series, but what has been left behind is the real truth.
The "day-for-a-year" principle, transferred from the books of Ezekiel (4:6) and Numbers (14:34) and forced upon the literal days of Daniel, was first considered an option during the Dark Ages likely as an answer to the long delay. The "time, times and half" (1,260 days) of Daniel 7:25 were turned into years (1,260 years) and so forth. The historicist view of prophecy became the popular view of Christendom for several centuries.

THE KINGDOM CALENDAR--The Appointed Times & Seasons
The Kingdom Calendar (with new Interactive Hotspot Links), also known as the Appointed Times & Seasons Calendar, and the free Insights in Prophecy Lesson Guides (Revised and Updated, July 2012) will take you through the books of Daniel and Revelation for a thorough investigation into final events. The Calendar shows how the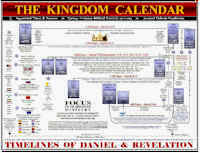 timelines of prophecy align between the Biblical/ Jewish Festivals (Hebrew: Moedim--meaning "Rehearsals"--the "appointed times").
The five prophetic time periods in Daniel ("seventy 'sevens'"--490 days, "2300 evenings and mornings"--1150 days, "time, times and a half"--1260 days, 1290 days and 1335 days) are directly connect to the often-repeated 1260 days (42 months; "time, times and a half") found five times in the book of Revelation.
The 3 1/2 days of Daniel (9:27)--"the middle of the seven" and the 3 1/2 days of Revelation (11:9-11), when connected to the longer 3 1/2 year period, reveal a prophetic time chart that both begins and ends with Festival periods. This alignment forecasts the fulfillment of end-time events known as the "times and seasons" of Biblical prophecy.
The book The Kingdom Calendar: Divine Dates of End-time Disaster & Deliverance is available in paperback at Amazon, and takes you step by step through events of the final crisis, noting how the great worldwide troubles begin and end within the time allotted by God. Ecclesiastes 8:5-6 says, "...and a wise man's heart discerns both time and judgment.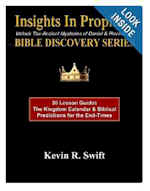 Because to every purpose there is time and judgment."
BOOK OFFER: Insights in Prophecy: Unlock The Ancient Mysteries of Daniel & Revelation is a 292 page paper back compilation of 30 lesson guides that will take you step by step through Messiah's prophecies, explaining how events in our world are matching with alarming accuracy to the ancient books of Daniel and Revelation. The lessons are free on our website, but you can save time, ink, paper and printing costs with the purchase of all the lessons in one bound book. To learn more, visit Amazon.
Billy Graham, Blood Moons & The Harbinger – A Convergence Of End Time Events Coming Soon?
Pressures Leading to Middle East War, Threats to Israel, World War III, Financial Collapse, Disaster, Chaos & Holocaust
"While people are saying, "Peace and safety," destruction will come on them suddenly, as labor pains on a pregnant woman, and they will not escape,"
1 Thessalonians 5:3
The Middle East is about to erupt, and when it does it will lead to World War III (see Chaos & War). This clash of the nations (Matthew 24:7) will begin with conflict between Israel and her surrounding enemies (Syria, Palestinians, Egypt, Jordan, etc.), and also a US-European-Israeli battering of Iran (the instigator of Middle East turmoil)... which will summons a Russian response, likely thermonuclear war and global holocaust.
Particularly vulnerable to the Bear attack are three countries (horns/ribs-Daniel 7:5,8) on the Mediterranean coastline--(i.e. Greece, Italy, Spain, Portugal, but the Scriptures are not explicit and we cannot know exactly which three are destroyed). How do we know the general area? Prophecy gives the direction of the growing power--the "little horn" [little nation--the Vatican], which Daniel wrote "started small but grew in power to the south [i.e. Italy, Spain, Portugal] and to the east (Greece) and toward the Beautiful Land" [Israel] (Daniel 8:9). Today, these southern European nations are facing financial stress and internal turmoil, and Russia will consider them wounded and vulnerable to their uprooting attack. Out of this holocaust will emerge the power-base of the Man of Sin (Antichrist), whose miraculous arrival on the global scene will be buttressed by sky events, signs and wonders; the whole world will marvel at his appearance.
As for the West, America's Middle-East victories will be short-lived; the U.S. will experience financial collapse (as will the global markets) and ruin, and her fall from superpower status will be quick and decisive. No home will be left unaffected; all mankind will experience calamity and fear that the end of the ages has come... however, it will only be the "beginnings of sorrows," (Matthew 24:8).
Video: Does the United States Support Israel?
Today, Jerusalem sits on the brink of war and calamities that will forever change the landscape of the beloved city, and the course of human history.
Aug 21, 2013 Editor's Note: Israel is surround by war and instability, and the epicenter of prophecy-- Jerusalem and the Temple Mount--will soon experience tragedy first hand. After the initial destruction, Daniel forewarned, "The seven 'weeks' will begin when an order is given to rebuild Jerusalem and make it like new again... Jerusalem will have streets and a water system when it is rebuilt. But that will be done in times of trouble," (Daniel 9:25; NIRV). Then follows Jerusalem's final destruction, "The army of the ruler who will come [Antichrist] will destroy the City and the [rebuilt] temple. The end will come like a flood. War will continue until the end. The Lord has ordered that many places be destroyed," (Daniel 9:26; NIRV). See Luke 21:20-22 The army of the ruler who will come [Antichrist] will destroy the City and the [rebuilt] temple. The end will come like a flood. War will continue until the end. The Lord has ordered that many places be destroyed," (Daniel 9:26; NIRV). See Luke 21:20-22
Disclaimer: The news articles posted on this site often
DO NOT represent this ministry's views.
Mar 11, 2014
Russia launches paratroop exercise east of Ukraine. Moscow tycoons move assets from West to Far East
Mar 11, 2014
Oil and Natural Gas as Weapon of War
Mar 11, 2014
20 Facts About The Great U.S. Retail Apocalypse That Will Blow Your Mind
Mar 11, 2014
Ukraine in near state of war, foreign minister says
Mar 10, 2014
Cheney: Leave military options against Russia open
Mar 10, 2014
Arab League rejects recognizing Israel as a Jewish state
Mar 10, 2014
Game Changer: It Will Be Shocking for the Average American: "Your Cost of Living Will Quadruple"
Mar 10, 2014
Israel to unveil Iranian arms for Gaza terrorists
Mar 9, 2014 FoxNews Video
***Ukraine crisis: "We are three steps from war with Russia"
Mar 9, 2014 FoxView Video
Robert Gates on Ukraine crisis, 'reset' with Russia
Mar 9, 2014
Ukraine's Military Mobilizes, Prepares For Combat: Trucks, APCs, SAMs, Howitzers, Tanks Rolling Out
Mar 9, 2014
Obama's message to Russia: Sending fighter jets to Baltic allies
As Russia sends more forces to the Crimea peninsula, the US bolsters the Baltic Air Policing mission in an attempt to stabilize the situation.
Mar 8, 2014
The Ukraine crisis: Russia may halt (START) strategic weapons inspections, revert to Cold War tactics
Mar 8, 2014
Economist Warns of Collapse Risk: "Will Not Allow Life to Continue As We Know It"
Mar 8, 2014
Falling Empires and Surging Silver by
Mar 7, 2014
Moscow secures Crimea poll with air-defense missile drill. US steps up military activity around Russia
Mar 7, 2014
U.S. fighter jets circle Baltics as Putin reignites fear of Russia
Estonia, Latvia and Lithuania get military support from the North Atlantic Treaty Organization, as Vladimir Putin pours troops into Ukraine's Crimea
Mar 6, 2014
***Bolton: Obama, Clinton, Kerry doctrine 'drift, decline, and defeatism'
Mar 5, 2014
Ukraine conflict: Global economic crisis brewing or local problem? (+video)
The military tensions raise the risk of sanctions that isolate Russia in what some call a "new cold war."
Mar 5, 2014
Is the Stock Market Bubble About to Burst
Mar 3, 2014
Report from AIPAC conference: "Bombshell" interview by Obama may create new strains in US-Israel relationship. Netanyahu, Kerry set to address 14,000 activists today.
Mar 3, 2014
16,000 Russian troops deployed in Crimea region, Ukraine claims
Mar 2, 2014
Putin Threat to Ukraine Seen Leaving West With Few Good Options
Mar 2, 2014
The Invasion So Far: Visual Summary Of Russian Forces And Movements
Mar 2, 2014
Obama will Pressure Israel 'Forcefully' over Framework
Palestinian Authority sources say US President intends to apply heavy pressure on Netanyahu and Abbas.
Mar 2, 2014
Mar 2, 2014
Russia considers "unacceptable" foreign meddling in the internal affairs of Venezuela. Russian & Chinese aircraft carriers Kuznetsov & Shilang -07 head to the Caribbean
Mar 2, 2014
Kiev calls up troops as Crimea crisis threatens to spiral into war
Mar 2, 2014
Ukraine PM warns country is 'on brink of disaster'
Mar 2, 2014
Ukraine calls up reserves against Russia. Putin spurns Obama's call to de-escalate with fallout on Mid East
Mar 1, 2014
PUTIN SEIZES CRIMEA. We are watching a Czar rise. Russian Senate authorizes Putin to use force in Ukraine. Russian troops on the move. Debate warns of "apocalyptic consequences." Biggest test for Obama presidency.
Mar 1, 2014
Ukraine's PM: Russian intervention will mean war
Mar 1, 2014
Lawmakers back Obama's warning to Russia on 'costs' for Ukraine intervention
Mar 1, 2014
Dangerous escalation: Despite Obama warning, Putin sends Russian troops into Ukraine. Asks Parliament for authorization to use force.
Mar 1, 2014
Putin asks parliament to use military in Ukraine
Mar 1, 2014
Russians strike Ukraine army post in Crimea. Kiev fears Ukraine army putsch. US warships on standby
Feb 28, 2014
GEAB N°82 is available! 2014, resumption of the global systemic crisis' « normal » path
Feb 28, 2014
Another 2,000 Russian troops airlifted into Crimea in continuing takeover of region
Feb 28, 2014
Russian Air Force Drills Ukraine Attack Plan
Feb 27, 2014
Russia Responds To US Warning: Expands Military Presence Globally
Feb 27, 2014
Is Russia preparing to move on Ukraine?
Feb 27, 2014
Pro-Moscow coup in Crimea. Russian fighter jets on W. border on combat alert. Kiev deploys security forces
Feb 26, 2014
Russian military drill may be lead-in to Crimea occupation and Ukraine split
Feb 26, 2014
Video-- The Watchman: America, Israel and Bible Prophecy - February 18, 2014
Feb 25, 2014
Russian Ships Arrive On Ukraine's Crimean Coast As Fears Mount Over Russian Invasion In the Region
Feb 24, 2014
U.S. warns Russia to keep its military out of Ukraine
Feb 24, 2014
Could there be a third world war?
Feb 24, 2014
How the US brought the Middle East to the brink of Armageddon
Feb 22, 2014
Ralph Peters: 'Willfully naďve' Obama 'afraid' of Putin
Feb 21, 2014
Warning: Stocks Will Collapse by 50% in 2014
Feb 20, 2014
Ukraine: Protesters capture 67 police in Kiev
Opposition protesters, police clash in Ukranian capital, at least 33 people killed on Thursday, adding to a total of at least 59 this week.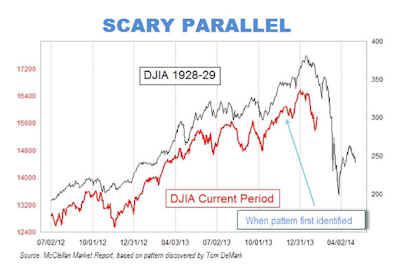 The First Miraculous Birth
Genesis 17 shares the story about the father of the nation of Israel -- Abram and his wife Sarai, and how the LORD appeared to the 99 year old Abram. The LORD, said, "I am God Almighty... I will establish My covenant between Me and you, and I will multiply you greatly," (vs. 1-2). The story continues, "God said to Abraham, "I will give you a son [Isaac] by her [Sarah]... and she will produce nations." Abraham fell facedown. Then he laughed and said to himself, "Can a child be born to a hundred [100] year-old man?" Of course, Abraham already had a son by Sarah's maidservant Hagar, whose name was Ishmael -- thirteen years old at this time; however, he was not the chosen one -- rather Ishmael was Abraham's attempt to fulfill God's promise of a great nation because of his unbelief. As a result, Ishmael's line (the Arabs) would became Isaac's (the nation of Israel's) arch enemy from that day forward; and, down through the centuries this bad blood would cause the great conflicts of the Middle East between Arabs and the Jews that continue yet today. We can be sure that Ishmael (Arabs) and nephew Esau (Palestinians) will strike back at his brother Israel (and Jacob) as the end times begin. At the center of the conflict is Jerusalem and the Temple Mount, and control of God's chosen Most Holy place.

Rafsanjani & the US Led War on Iran
For more than two decades, this ministry has joined others in warning of a US led coalition against the Islamic nations of Iraq, followed by Iran--the Goat vs. the two-horned Ram in Daniel 8:1-8. Iraq's defeat by the American-led coalition commenced on March 19, 2003, at Shushan Purim—the day Purim is celebrated in Jerusalem. The second half of this prophecy involving Iran may also begin at or near a Festival season, as a continuation of this prophecy that began ten years ago with the attack on Iraq.

Worship at the Western Wall and Temple Mount will be taken away, according to Bible prophecy--(Read Prophetic Warning for Jerusalem & Israel). The last generation of saints have God's promise of the final unsealing of prophecy--including a more thorough understanding of final events that center around the

mysterious 1,290 days and 1,335 days of Daniel 12, which says, "From the time that the daily [worship]... is abolished [at the Western Wall & Temple Mount] and the abomination that causes desolation is set up [on the Temple Mount], there will be 1,290 days. Blessed is the one who waits for and reaches the end of the 1,335 days." In other words, a disastrous tragedy such as an earthquake (link) (link) (link) (link) (link) or war will soon stop daily worship at the Western Wall and Temple Mount.

America's Decline & Judgment
Is America ripe for judgment? Many years ago, Thomas Jefferson said: "I tremble for my country when I reflect that God is just; and that His justice cannot sleep forever. In recent decades, Billy Graham quipped, "If God doesn't judge America He will have to apologize to Sodom and Gomorrah!"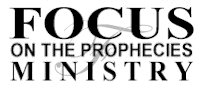 5815 S.W. 29th St Topeka, Ks 66614

Help Us Know What Interests You Here at Focus!
The Next Festival Watch Period
"Be always on the watch, and pray that you may be able to escape all that is about to happen, and that you may be able to stand before the Son of Man," Luke 21:36.
February 8, 2014
If you have been studying God's prophetic warnings, and watching and praying, you will recognize the world sits on the brink of global war, a financial collapse freefall, and life-altering tragedies--all occurring with lightning speed as the last days begin their countdown to the King and His Kingdom. Even the death of one political figure could bring World War, if blamed on another nation. This is proven by past global conflagrations. For over 20 years I have written and warned, often being early in my predictions... but I can honestly say with a sincere heart that after all these years it is my firm belief that the time has come and we stand at the edge of the appointed time of the end. The Kingdom Calendar's timelines are about to begin. Life changing world events will unfold quickly now. Please continue to watch and pray. We are that final generation, and the life and death decisions are now ours to make for our families' sake.
Kevin Swift
Feb 11, 2014
Watch This Video: Jerusalem Spot Report
On January 30, 2014, thousands demonstrate against peace talks at the Western Wall, with the blowing of trumpets. Watch 2nd Video.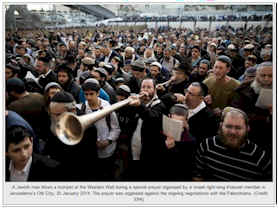 Feb 11, 2014
Chabad-Linked Rabbis Equate Secretary Of State John Kerry With Biblical Haman
---------------------------------------
12th-Century Rabbi Predicted Israel's Future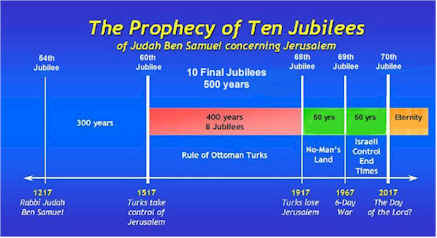 War with Iran--The Beginning of the End
Note: The news articles posted on this site often
DO NOT represent this ministry's views.
The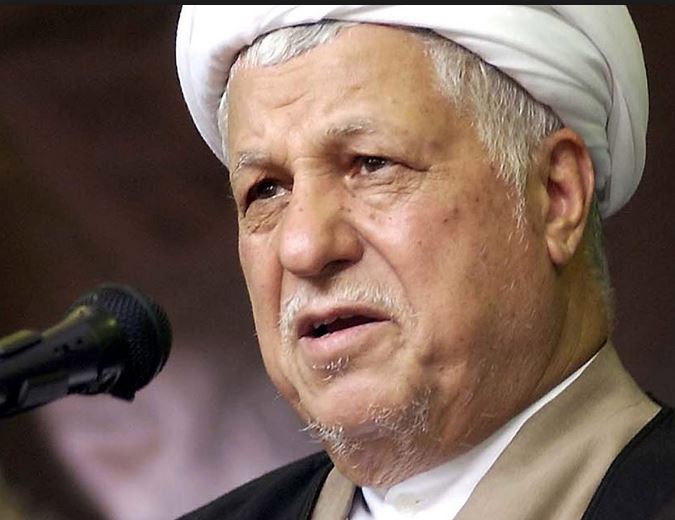 fourth president of Persia (Iran)-- the wealthy Rafsanjani will take Islam to war with the kingdom of "Javan"-- Greece and nations of the West. His ascent to power due to his wealth was foretold in the oracles of Daniel, penned over 2,000 years ago: "Now then, I tell you the truth: Three more kings will arise in Persia, and then a fourth, who will be far richer than all the others. When he has gained power by his wealth, he will stir up everyone against the kingdom of Greece ["Javan"-- Greece and powers of the West]." Daniel continues, "A mighty king [from from the West -- America] will arise, who will rule with great power and do as he pleases. After he has arisen, his empire [America] will be broken up and parceled out toward the four winds of heaven... his empire will be uprooted and given to others," Daniel 11:2-4.
Will Rafsanjani take Khamenei's place as the supreme leader? Will Israel strike the head of Iran, leaving Rafsanjani to take over, and lead Islam to all-out war with the West? The Word of God says... "I will destroy the archers of Elam [Persia]— the best of their forces. I will bring enemies from all directions, and I will scatter the people of Elam to the four winds.. I will destroy its king and officials," Jeremiah 49:35,36,38.
Related Articles
Nov 4, 2013: Where Is the Ayatollah?
"The man most likely to succeed Khamenei is Akbar Hashemi Rafsanjani who served as the fourth president of Iran, from 1989 to 1997."
Video: Rafsanjani chose supreme leader in 1989 (with subtitles). Will the favor be returned?
Nov 29, 2013: Iran's Rafsanjani: Israel Seeking to Make Arabs Forget Number One Enemy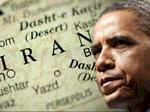 Current Iran News
Mar 11, 2014
The Danger of Ignoring Iran's Threats
Mar 11, 2014
Netanyahu cries out, world remains silent
Analysis: Israel's prime minister sees battle against Tehran as his life's mission, but world has in fact come to terms with Iran becoming a nuclear threshold state.
Mar 11, 2014
Iran general: "Our hands are on the trigger" to destroy Israel
Mar 11, 2014
US General Warns America Must Take Out Iran
Former Deputy Under Secretary of Defense calls Iran existential threat, says US should lead attack or at least aid Israeli strike
Mar 11, 2014
Video: Netanyahu blasts 'hypocrisy' of the West on Iranian missile ship
Mar 10, 2014
PM Netanyahu showcases weapons seized from Iran ship
Mar 10, 2014
Netanyahu blasts world's 'self-deception' on Iran as intercepted weapons unveiled
Mar 10, 2014
Thwarted, for now, Iran's bid to target all of Israel from Gaza
The missiles displayed in Eilat port would have given Tehran the capacity to hit as far as Haifa. Future shipments could be more devastating still
Mar 10, 2014
Netanyahu: "Iran will next hide nuclear suitcases." DEBKAfile: Bought 10 years ago from Ukraine
Mar 10, 2014
Israel puts cache from seized arms ship on show
Weapons placed on display at Eilat naval base; army says mortar rounds made in Iran; Netanyahu and other officials to speak about 'true face of Iran'
Mar 10, 2014
Netanyahu: Like Iran hid arms, it's hiding nuclear ambitions
Prime minister in Eilat to congratulate soldiers who partook in daring open-waters capture of Klos C, and show off the impressive armament haul.
Mar 9, 2014
Inside Iran arms ship: 40 missiles, 400,000 bullets
A day after reaching Eilat port, special engineering and Navy forces unload weapons from Iranian arms vessel destined to reach Gaza militants.
Mar 9, 2014
'Rows of Iranian rockets' said found on seized ship
Mar 8, 2014
Ship with Iran missile cargo escorted into Eilat port
Mar 8, 2014
Netanyahu likens Iran to Nazi Germany in Los Angeles speech.
Mar 7, 2014
Obama is neither listening to nor cares about Netanyahu's repeated warnings that time is running out before Iran acquires nuclear weapons.
Mar 7, 2014
The Iranian missile ship's capture was Israel's second swipe at al Qods chief Gen. Soleimani
Mar 6, 2014
No Separating Iran's Nukes From Terrorism
Mar 6, 2014
Meet the elite Iranian force behind arms transfers
Quds Force and its leader Qasem Soleimani were dealt a blow when the Gaza-bound arms shipment was caught, and the incident is likely to further strain their relations with moderate President Rouhani who is trying to present a the world with a new Iran.
Mar 6, 2014
Netanyahu on Iran's denial: When ship reaches Eilat, we'll see who the liar is
'We'll expose Iran's true face to the world, fight them, and win,' Netanyahu says at Museum of Tolerance in LA before going on a plane back to Israel.
Mar 6, 2014
Epicenter, Chapter 7 (2006): "Future Headline: A Czar Rises In Russia, Raising Fears of a New Cold War."
Mar 6, 2014
In 'perfect' operation, Israel reveals Iran's true face
Mar 5, 2014
Mar 5, 2014
Iran claims it has missiles with multiple warheads
Mar 5, 2014
First US-Israeli intelligence collaboration in four years against an Iranian military target: Iranian missile ship
Mar 5, 2014
IDF takes control of Iranian ship
Mar 3, 2014
Mar 2, 2014
The president is sending Secretary of State John Kerry and Treasury Secretary Jack Lew to fly the administration's colors and fake that all is well between the Obama administration, AIPAC and Israel.
Mar 2, 2014
Netanyahu to urge Obama to rule out Iranian enrichment
Mar 2, 2014
Mar 1, 2014
Iran advancing its nuclear program despite pact with West
Feb 28, 20214
Iranian Official: 'We are Preparing to Liberate Jerusalem'
Militia carries out exercise to prepare for invasion of Holy City. General: the Islamic world is waiting for Tehran to call them to battle.
Feb 28, 2014
Iranian training exercise reportedly aimed at Jerusalem
Feb 27, 2014
IAEA nixed delicate report on Iran nuclear program
UN agency reportedly decided against publishing information that would harm negotiations between Tehran and world powers
Feb 27, 2014
Authorize Force Now: Congress should deter Iran's nuclear ambitions by authorizing, now, the president to use military action, two U.S. scholars say. Are they right?
Feb 26, 2014
Kerry: US must pursue Iran nuke talks before considering war
Feb 25, 2014
Iran nuclear chief: We'll enrich as and when we want to
Feb 25, 2014
Iran unveils new defense radar, electronic achievements
Feb 25, 2014
Tehran – Official: Iran Has Studied Israeli Strike Tactics
Feb 25, 2014
Western sources: Israel Air Force hits SS-21 batteries, first attack in Syrian war on nuclear-capable missiles
Feb 24, 2014
Iran to top Netanyahu's agenda in US visit
Prime Minister Benjamin Netanyahu angry about developments following nuclear negotiations between world powers and Iran
Feb 23, 2014
Russia's Putin faces tough choices over Ukraine
Feb 23, 2014
Netanyahu: Iran is getting everything but giving nothing
Comments come day after US official says Iran may be left with some uranium enrichment capabilities.
Feb 22, 2014
US: Iran might be allowed 'limited' nuclear program
Feb 22, 2014
Iran-China joint cooperation document signed
Feb 22, 2014
In high-stakes round, Iran talks will take place in the dark
Feb 22, 2014
Rousing the Americans from their slumber
Feb 21, 2014
Top Iranian cleric warns of 'crushing response' to US strike
Feb 21, 2014
Feb 21, 2014
Britons will never back preemptive strike on Iran
Feb 21, 2014
The Collapse of Sanctions on Iran – The Weekly Standard
Feb 21, 2014
Israel: IAEA report proves Iran taking world for a ride
Feb 20, 2014
Rouhani: Iran hopes for 'liberation' of Jerusalem
Feb 20, 2014
Iranian parliament adds $3 bln to defense budget as a respond to US military option
Feb 20, 2014
Iran talks adjourn to March 17, after 'framework' agreed
Feb 20, 2014
New Iranian Video Shows an Even More Shocking Military Scenario than the Last One
Feb 20, 2014
Netanyahu: We must prevent Iran from having the capacity to produce nuclear weapons
Feb 19, 2014
Iran enters final-deal nuclear talks refusing to shut down 'any facilities'
Europe, Vatican & the New World Order
The New World Order will result from a series of international policy changes in response to the

growing global financial crisis and the desire for a new global currency, escalating disasters of war, nuclear holocaust, poisoned air, and nature's wrath, along with supernatural signs and wonders (eg. Marian sightings), and religious unity based on Vatican/Catholic "Sunday-promoting" governance centered in the Europe Union (Lisbon Treaty), promoting the "common good" of all nations under Papal and European NATO rule. This will ultimately lead to a global marking system for buying and selling, and 10 divisions of the world (10 Kings) of Revelation 17:12-14.
There is a Catholic teaching that before the great climax of human history a righteous Pope will first rule the world, turning many to Christianity, followed by an evil Pope or Antichrist who would emerge to fulfill the apocalyptic predictions of Revelation.
(continue)
Egypt's End-Time Conflict with Israel
The Following Excerpt is from the Insights in Prophecy Lesson 10, Written in 2003
Chapter 10 introduces Daniel's final and lengthiest vision, spanning three full chapters (Daniel 10, 11 & 12). The future, end-time fulfillment of Daniel's vision is announced right in the passage itself: Daniel 10:14 says, "Now I am come to explain to you what will happen to your people [Israel] in the future, for the vision concerns a time yet to come." The King James reads, "what shall befall thy people in the latter days."
CONSUMING FIRE: A Biblical Challenge to a Brutal God & Eternal Burning Flames
What is the Biblical teaching concerning the future punishment of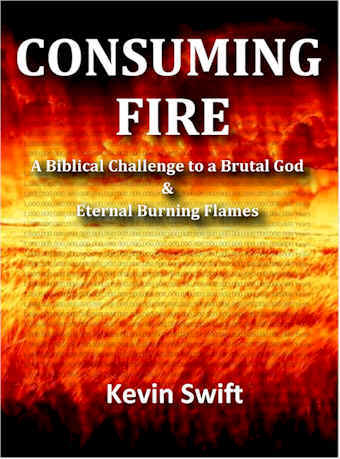 sinners? Will men, women and children suffer fiery torture for endless ages? The Scriptures paint a picture of the demise of sinners, and you might be surprised what you find when you start in the Old Testament and work your way through the New. Examine the passages and see for yourself how God will deal with sin and sinners. You may gain a fresh new perspective about the compassionate God we serve!
Click here for a FREE copy of Kevin's latest 40 page eBook.
A Crash Course on Jewish
Holidays-- Messianic Source
Source: Hebrew4Christians
Key Scriptures About Prophecy
GOD'S PROMISE
"Go thy way, Daniel: for the words are closed up and sealed till the time of the end... none of the wicked shall understand; but the wise shall understand," Daniel 12:9-10.
OUR RESPONSIBILITY
Study to shew thyself approved unto God, a workman that needeth not to be ashamed, rightly dividing the word of truth," 2 Timothy 2:15.
OUR LIMITATION
"O the depth of the riches both of the wisdom and knowledge of God! How unsearchable are His judgments, and His ways past finding out! For who hath known the mind of the Lord? Or who hath been His counselor?" Romans 11:33-34
The Word of God points to the value of prophecy. We can be confident that any effort expanded to dig deeper and learn more about God's prophetic Scriptures will be time well spent... especially as the Day approaches.
"The secret things belong to the Lord our God; but the things that are revealed belong to us and to our sons forever," (Deuteronomy 29:29).
"Surely the Lord God does nothing, unless He reveals His secret counsel to His servants the prophets," (Amos 3:7).
"I am God, and there is no other; I am God, and there is no one like Me, declaring the end from the beginning and from ancient times things which have not been done... I have spoken; truly I will bring it to pass. I have planned it, surely I will do it," (Isaiah 46:9-11).
"[Jesus said] 'Do not think that I have come to abolish the Law or the Prophets; I did not come to abolish, but to fulfill,'" (Matthew 5:17).
"[Jesus] said to them, 'These are My words which I spoke to you while I was still with you, that all things which are written about Me in the Law of Moses and the Prophets and the Psalms must be fulfilled,'" (Luke 24:44).
"Of Him [Jesus] all the prophets bear witness that through His name everyone who believes in Him receives forgiveness of sins," (Acts 10:43).
"The prophets who prophesied of the grace that would come to you made careful search and inquiry, seeking to know what person or time the Spirit of Christ within them was indicating as He predicted the sufferings of Christ and the glories to follow," (1 Peter 1:10-11).
"We have the prophetic word made more sure, to which you do well to pay attention as to a lamp shining in a dark place... But know this first of all, that no prophecy of Scripture is a matter of one's own interpretation, for no prophecy was ever made by an act of human will, but men moved by the Holy Spirit spoke from God," (2 Peter 1:19-21).
"The revelation from Jesus Christ, which God gave
,"
(Revelation 1:1,3; Revelation 19:10).